People have been asking what Magnum Opus is going to do now that we're not publishing Dragon Warriors any more. The simple answer: we're not going away. We will continue to release games, books and interesting things that blur the lines between the two.
Case in point: AFTERLIVES, our latest PDF-only title. AFTERLIVES is a meta-RPG (or a systemless scenario for any fantasy RPG, if you prefer to call it that) which asks: do player-characters have souls, and if so what happens to them when the PC dies? Do they go to their religion's version of heaven or hell? And can you influence that?
It's a 22-page one-shot by acclaimed author/designer James Wallis with art by Gustave Dore (known for illustrating The Extraordinary Adventures of Baron Munchausen and the Bible). Dragon Warriors creator Dave Morris says that it "bears the sure touch of Wallis genius".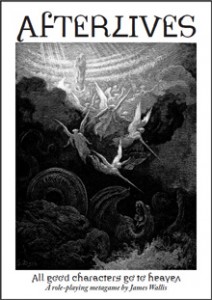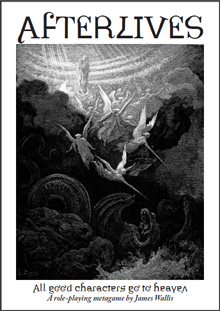 AFTERLIVES is available as a DRM-free PDF from DriveThruRPG, for $4.95 (click here to visit the site). Later in the year we'll make it available as a limited-edition chapbook.
And there will be more to follow. You can rely on it.