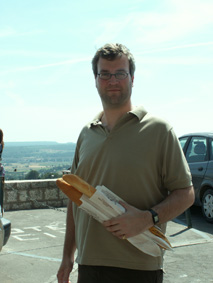 James Wallis started editing and publishing his first magazine at the age of 14. He is the former director of Hogshead Publishing, the largest producer of tabletop RPGs in the UK. He is also an Origins Award-winning games creator and publisher. He has designed online narrative games for clients including the BBC, the Home Office and Endemol Digital, two of his tabletop games appear in Hobby Games: the Best 100 (Green Ronin Press, 2007), and he is one of three designers to have ever had an RPG published by MIT Press.
He's also been a journalist for the Sunday Times, a TV presenter, a magazine editor, a dot-commer, and wrote two documentaries about Star Wars that were narrated by Anthony Daniels and distributed with a national newspaper. He's also written 13 books. He runs Magnum Opus Press and the game-design consultancy Spaaace.
He used to hold the Guinness World Record for playing Advanced Dungeons & Dragons, but he doesn't talk about it much.
Titles for Magnum Opus Press:
The Extraordinary Adventures of Baron Munchausen