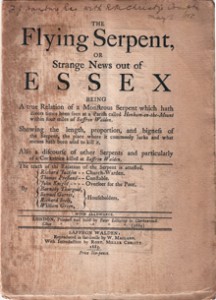 A true Relation of of a Monstrous Serpent which hath divers times been seen at a Parish called Henham-on-the-Mount within four miles of Saffron Walden.
Showing the length, proportion, and bigness of the Serpent, the place where it commonly lurks and what means hath been used to kill it.
Also a discourse of other Serpents and particularly of a Cockatrice killed at Saffron Walden.
This extraordinary document is a facsimile of a pamphlet originally printed in the UK in 1669, describing the appearance of a winged serpent not far from the town of Saffron Walden, 45 miles from London, and the locals' reaction to it. It's a wonderful, strange, atmospheric, and very real piece of historical ephemera.
The seventeenth century's attitude to fantastical and mythological creatures is extraordinary – it's very matter-of-fact and there's no doubt at all that these beings are actual, they really exist, and they may appear in the next village over. The language is wonderful, the typesetting beautiful, the paper aged and stained. 'The Flying Serpent' has the ache of history on every page.
Also included is a preface written by Robert Miller Christie in the late nineteenth century, in which he describes other appearances by mythic snake-like beings around the UK in the 1600s and before, wonders about the true nature of the flying serpent, and speculates on who may have written the pamphlet.
The Flying Serpent is only available as a digital file in Adobe PDF format, downloadable exclusively from our publishing partners at DriveThruRPG.
The Flying Serpent, or Strange News Out of Essex
By an anonymous author and Robert Miller Christie
5.75″ x 7.9″; 12 pages
Price $1.95