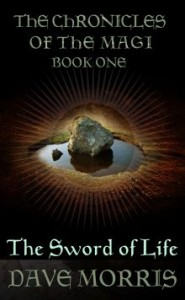 To celebrate May Day we had a surprise release: all three volumes of Dave Morris's Chronicles of the Magi trilogy of young-adult novels, originally published by Hodder Childrens Books in 1997.
The books are set in Legend, the world of Dragon Warriors, and tell the story of an earnest warrior-priest and a charming rogue on a quest to save the world from the return of the Magi, the five ancient wizards who were banished from Krarth and who now circle the planet as malevolent comets.
The books are packed with atmosphere and nuggets of information and background on Legend: its countries, its history and its inhabitants. The story ranges from the bizarre city of Krarth and its battle-pits to the frozen wastes of Wyrd and the sun-blasted south with its weird magic, jinni and fire-worshippers. There's inspiration for a hundred adventures in here.
The Chronicles of the Magi is Magnum Opus Press's first digital-only release. The books are exclusively available  as PDF downloads from DriveThruRPG, with new covers from Jon Hodgson, priced at US$4.95 each.